Queen-breeding
Our bees belong to a race known as Carnica. Carnica is a bee-race that suits climates where there is summer-flowering extremely well, as they develop quickly in the Spring. We support the Norwegian Bee-keeper Union's breeding-work with the Carnica bee.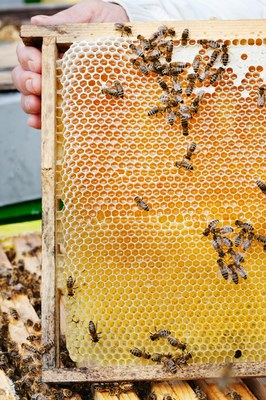 We function as test-hosts for Carnica queens, every second year. This is very interesting; we gain an insight into the development of, and access to, the best breeding-material to be found in Norway.
Fine young queens are extremely important. They increase honey-production greatly, and it's much easier and more fun to work with good-tempered bees. As a queen is mother to all a hive's bees, her importance is obvious. We replace the queens in our production-hives every second year, and therefore require a good many queens ourselves, but we also produce queens for sale.
Items for sale:
Queen-cells
Many bee-keepers like to fill up their mating-boxes with their own bees and travel to a queen-mating station, while purchasing queen-cells.
One may also graft cells into nucleus hives and mate at home.
Cells cannot be sent by post, but must be collected from us personally.
Virgin Queens
Newly-emerged, marked queens with escort-bees in a transport-cage. May be sent by post. The cage may be hung up in queen-less nucleus hives. Remember to get rid of the escort-bees first! A queen may also be inducted into mating-box.
Mated Queens, pure-mated at queen-mating station
We use the queen-mating stations at Leirsjøen in Hadeland and Skrukkelia in Hurdal, Akershus District.
Mated queens can also be sent by post.
Queens are sent at 1500 hrs by post-truck from Minnesund. They may be then collected the next morning at the destination's post-package outlet.

Queens may also be collected personally from us up at the farm.
We do not sell queens outside the country.