Organic Honey-Cake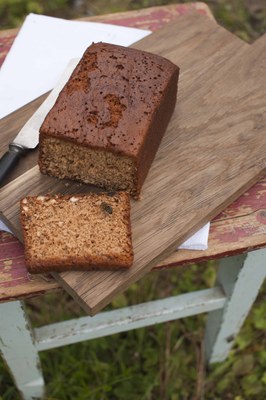 8 organic eggs

500g. organic heather-honey

500g. organic sugar

500g. organic wheat flour

100g. organic potato-starch

250g. chopped organic almonds/nuts

2 level tsp. salt of hartshorn

2 level tsp. organic cloves

2 level tsp. organic ginger

2 level tsp. organic cinnamon

a few drops of organic lemon, 
a generous mass of dried organic fruits such as apricots, figs, dates and prunes, all quite finely chopped
Whip the eggs and sugar finely together, then mix all the dry ingredients. Let your micro-oven soften up the honey; it does the job nicely.
Stir out the salt of hartshorn in a little bit of warm water and blend it into the honey. Then mix all the ingredients. The fruit and nuts can be mixed in last. The resulting batter should be a thick, smooth and porous mass.
This mass will fill about 4 mid-sized cake-forms that should be well buttered/ oiled. Baking-paper may also be used. Bake in 130 degree C. hot air oven for 50-60 minutes. Test with a straw if the cakes are done! Turn the cakes on a grill one minute after they're taken from the oven.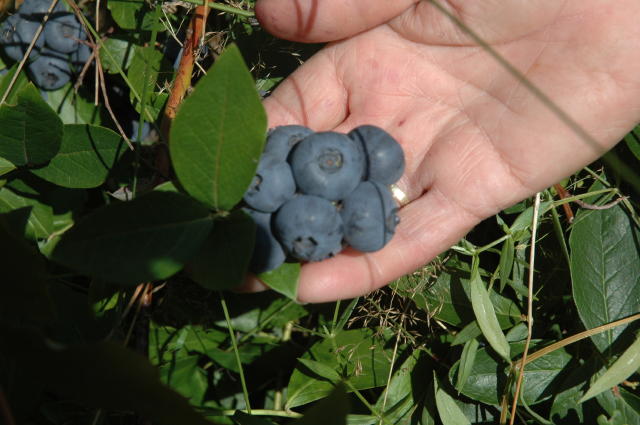 Organic Cultivated Blueberries
We have cultivated blueberries right from the start. Thanks to our bees' industriousness, these berries are extra large and delicious.
Bees' most important task, for Nature's and our perspective, is not to gather honey but to pollinate flowers. Crop-yields increase noticeably wherever bees are to be found, and this is true of our berries
You can buy our honey-cake and blue-berries at The Farmer's Market in Oslo