About us
High above Mjøsa, Norway's largest lake, near the historic Town of Eidsvoll, lies the little farm `Røisilien´.
In 1993 we began farming here, starting up with bees, herbs and blue-berries.
Once you first begin to work with bees, it's terribly easy to fall in love with these small and fascinating creatures. This happened to us!
Pungent-smelling herbs grow in our fields still, to our bees' delight; they pollinate busily, making the berries extra large and luscious.  
At the present time we have 300 hives.
We have farmed organically right from the start, and in 2005  we switched to a fully organic honey-production. 
Ingegärd produces hundreds of queens (Carnica) for our own use and for sale.
Juul's bent was towards the development of practical aids for the bee-keeper. A lift-free bee-keeping was his goal.
Now we've presented ourselves; bee-keepers
Ingegärd Øien.
Address: Røysilia 66, N-2092 Minnesund. 
Phone (+47) 63968840  
Cell-Phone
Ingegärd (+47)41264182
E-post: ingegard.oien@gmail.com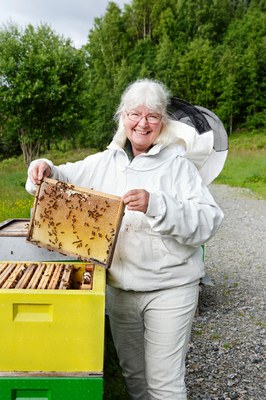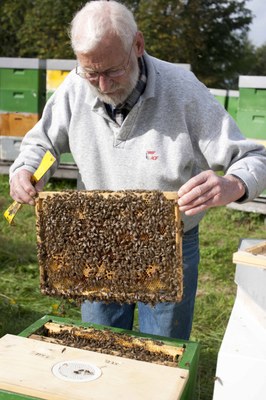 Photo by: Nadin Martinuzzi and Inger Marie Grini.